You have heard about the human genome project that aimed to and completed the identification of all the genes in the human genome.
The Human Connectome Project is another project of 'Big Science' to work out the wiring programme of the human brain. It means alot of laborious work to map the nerve pathways so that we can work how the brain works in health and disease.
In the programme you will hear about the Brainbow Mouse. This Brainbow is a term used to describe the process by which individual neurons in the brain can be distinguished from neighboring neurons using fluorescent proteins. By randomly expressing different ratios of red (RFP), green (GFP), and blue (CFP=cyan fluorescent protein) or Yellow (YFP) and Orange (OFP) derivatives of green fluorescent protein from jellyfish in individual neurons, it is possible to flag each neuron with a distinctive colour.
This process has been a major contribution to the field of connectomics, or the study of neural connections in the brain. Brainbow (made up of 3 or 4 colours) has the capacity has the capacity to fluorescently label individual neurons with up to approximately 100 different hues so that scientists can identify aidiviudal nerve
This makes some amazing images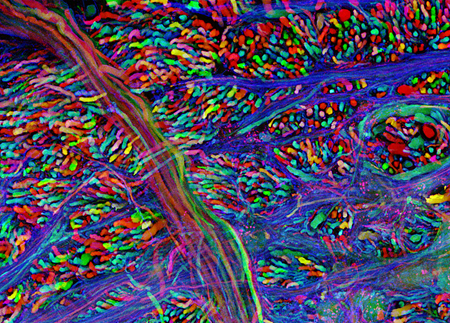 This will keep and army of people and loads of robots busy for some time. Wonder what would happen if the same sort resource was aimed at curing MS?