Prugger M, Berger T.
Assessing the long-term clinical benefit of prolonged-release fampridine tablets in a real-world setting: a review of 67 cases.Patient Relat Outcome Meas. 2013 Oct 23;4:75-85. doi: 10.2147/PROM.S42957.
PURPOSE:To assess the long-term effects of prolonged-release (PR) fampridine tablets (dalfampridine extended release) in clinical practice in patients with multiple sclerosis (MS) with walking impairment.
PATIENTS AND METHODS:
MS patients with walking impairment deemed candidates for treatment with PR-fampridine tablets were included in this case series. Clinical assessments included the Expanded Disability Status Scale (EDSS), Timed 25-Foot Walk (T25FW), 12-item Multiple Sclerosis Walking Scale (MSWS-12), EuroQoL-5D, and the Fatigue Severity Scale (FSS). The T25FW was videotaped at each visit. Assessments were performed at baseline and after 4 weeks of treatment with PR-fampridine tablets 10 mg twice daily. Clinical benefit of treatment was defined as any improvement in T25FW or MSWS-12 score at 4 weeks. Patients who demonstrated clinical benefit continued treatment and were assessed at 3 and 6 months.

RESULTS:Among all patients (N = 67; mean MS duration, 16.5 years; mean EDSS score, 4.8; mean T25FW, 13.9 seconds), 65, 52, and 48 completed the 4-week, 3-month, and 6-month visits, respectively. After 4 weeks, 50.7% and 32.8% of patients walked ≥10% and ≥20% faster, respectively; and in 65.7% of patients, MSWS-12 scores improved. Three patients experienced adverse events (nausea, n = 2, insomnia, n = 1) that resulted in discontinuation of treatment. After 6 months, 38.8% and 16.4% of patients walked ≥10% and ≥20% faster versus baseline, respectively; and in 59.7% of patients, MSWS-12 scores improved. Among patients who demonstrated clinical benefit of treatment at 6 months, FSS scores improved on average by 1 point and MSWS-12 scores by 10 points. Three case studies showing different outcomes of PR-fampridine treatment are detailed with a visual depiction of the changes observed.
CONCLUSION:In this case series, a proportion of patients demonstrated a clinical benefit of PR-fampridine treatment on walking. Determining which patients derive benefit from PR-fampridine is an important aspect of treatment. A range of clinical and patient-reported factors should be considered when assessing the clinical benefit of PR-fampridine treatment in MS patients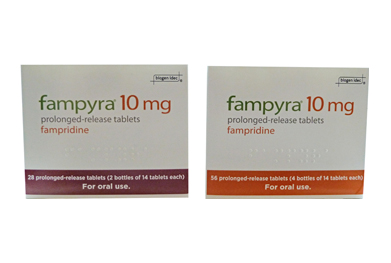 As we already know fampridine does not work for every body and in the real life phase IV post-marketing stage this can be seen to be the case here and this is the case over time. So it is not the wonder drug for all.
CoI: None
Labels: fampridine